Traveling with dogs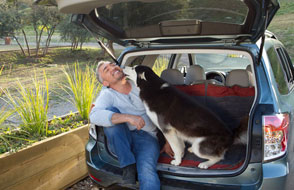 By Cesar Millan
Bringing your dog on vacation with you just adds to the fun and alleviates the worry of not knowing what's happening with your dog while you're on the road. You need to do your homework on dog travel though. Planes and cars aren't designed with dogs in mind, and you need to know what to expect when you reach your final destination. By planning your dog travel ahead of time, you can make the vacation a truly relaxing time for you and your dog. Here are my best dog travel tips to help make that happen:
Crating your dog for travel
It's natural to feel bad about crating your dog. After all, you wouldn't want to be crated. But don't project your feelings onto your dog. They don't mind the crate and some even feel safer in one.
The most important thing you can do is make sure your dog has been well exercised before he goes in the crate. If he's burned off his excess energy, he'll be more inclined to rest.
Make sure there's nothing in the crate that can harm your dog. Leashes and loose collars are especially dangerous items that could present a strangling hazard.
Keep your energy positive. Don't present the crate like it's a prison. Show the dog the crate and open the door. Don't shove the dog in the crate. Let him go into the crate on his own. When he's inside and comfortable, you can close the door. Walk away with good energy and body language. If you affect a sad voice and say things like "Don't be sad. Mommy and Daddy will be back soon, " your dog is going to think something's wrong and get anxious.
Come back in 15 minutes. This will ease the dog's separation anxiety next time you crate him. But don't take him out of the crate. Remember that you're not projecting that the crate is a bad thing. Just open the door and he can come out when he's ready. See my training video on how to crate your dog for travel.
Driving with your dog
It's usually a good idea to crate your dog when riding in the car. You'll be less distracted while driving which is safer for both of you. It also prevents your dog from becoming a projectile if you have to stop fast, also reducing the chance of injury for both of you. Speaking of projectiles, don't feed your dog a lot before the trip as they are prone to motion sickness. Don't feed your dog while you're moving either. Wait until there's a break and you can give her a small snack, preferably high in protein. It's also good to spend a little time playing or walking during the break to get rid of some pent-up energy. And of course, don't leave your dog in a parked car, especially when it's warm out. Even with the window cracked open, the car can quickly turn into an oven, and your dog will get dehydrated. See article Dog Is My Co-Pilot (And Other Bad Ideas).
Taking your dog on an airplane
The first thing you need to do is check with the airline for their rules regarding pet travel. Many require a health certificate and may have other rules you haven't thought of that you don't want to be surprised with at the airport. Your dog will almost certainly be traveling in a crate and it will probably make everyone's lives easier if you crate your dog before you enter the chaos of the airport.
See also: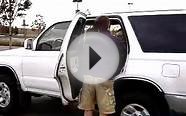 Travel Easily & Comfortably with a Dog : Prevent Your Dog ...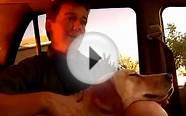 Travel Easily & Comfortably with a Dog : Learn Travel ...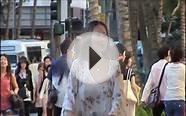 travel with dog ~愛犬とハワイへ~
Traveling with Dogs - Trip on a Deal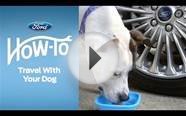 How To Travel With Your Dog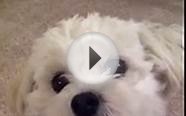 Traveling with my dog
PETBABA Pet 2.5cm / 1 Inch Width 30cm - 50cm / 1 - 1.6FT Length Nylon Adjustable Triple Coupler Leash Walking with Three Dogs for Medium to Large Dogs Black


Pet Products (PETBABA)




Heavy-duty nickel plated swivel clips perfect to avoid tangle
1 inch(2.5cm) in width,adjustable from 1 to 1.6FT(30cm - 50cm) in length
Manufactured from the premium nylon stitching,enforced closed jointing O-ring
Ergonomic design for easy comfortable use when walking 3 dogs of different breeds with a single lead
Click on PETBABA under the title to view all of our pet supplies
Popular Q&A
Traveling with Dogs? | Yahoo Answers
Airlines are concerned about whether he'll fit under the seat in an approved carrier versus his actual weight. Check the airline you want to fly and see what brand/make carrier they approve or size, than go the pet store and try your Pug in it. If he can properly lie down, stand, and turnaround in it..you're good to go.
Otherwise, remember we love our fur-kids but the pet rules are there to ensure their safety and comfort not just ours.
Travelling with dogs? | Yahoo Answers
I've done a lot of traveling with dogs (even young ones) and as long as you stop enough, it's fine. It can be a good bonding experience.