Independent Travel Vietnam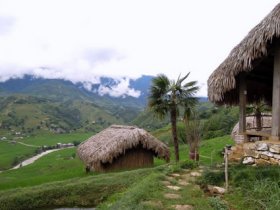 A Feast for All the Senses!
Article and photos by Katherine Sazdanoff
Sapa - H'mong Cooking School location.

Rural Vietnam is a wonderland for adventurous food lovers. Throughout the countryside, fresh, local ingredients and flavorful meals are the norm, with recipes passed down from generation to generation. One of the best ways to learn the essence of Vietnam's regional specialties is to enroll in classes with native chefs. On a recent 1-month trip to Vietnam, I did just that—participating in a cooking class in Sapa and then on Cat Ba Island.
Sapa, Vietnam
Located in Vietnam's remote, craggy Northwest Mountains, tourists travel to Sapa for the illustrious mountain surroundings, fascinating minority cultures, and access to authentic local markets. The area is an outdoor enthusiast's mecca with hiking, biking, and adventure activities galore in one of the world's most visually stunning regions. And by visually stunning, I mean magically beautiful, almost surreal. Throughout the area, rolling emerald-colored rice terraces cloak hillsides tended by colorfully clad locals. Waterfalls flow down from the mountaintops, and sharp, pointy peaks soar to cloud-speckled azure skies.
There is another important reason to visit this off-the-beaten-path town—the simple, yet delicious food. In fact, the food is so scrumptious that visitors frequently schedule impromptu cooking classes upon arriving in the hopes of recreating meals at home. They come for the mountainous hiking, but leave as enthusiastic beginner chefs.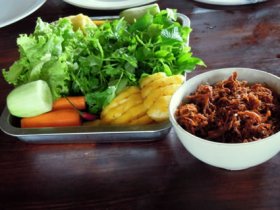 I know this well. After a few days in Sapa, I decided to put away my hiking shoes and enroll at the popular Hmong Mountain Retreat Cooking School. Since the Hmong Mountain Retreat is approximately a 20-minute bus ride from Sapa's town center, students begin the day by meeting at a sister hotel in town, Sapa Rooms. Mingling students sip piping hot Vietnamese coffee and sweet fruit juices in the hotel lobby before walking to Sapa's colorful outdoor food market.
Sapa - outdoor market.
At the market, instructors point out local vegetables, fruits, and herbs such as multi-colored chili peppers, bright orange carrots, bulbous papayas, green lemongrass, fragrant ginger, long coriander, and basil. Non-vegetarian fare exists as well including pork, chicken, and fresh water fish. The instructor emphasizes that we'll be using these fresh ingredients just as the locals do to create simple, yet delectable dishes. No imported or boxed ingredients that have been sitting on the store shelves for months—here in Sapa, we'll be making dishes solely with ingredients grown in the surrounding mountain communities.
See also: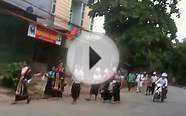 Voyage Vietnam avec Hung Voyagesviet Travel .Son site: www ...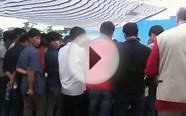 Voyage vietnam avec Hung Voyagesviet travel guide ...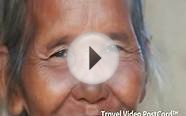 Vietnam-Vietnam Travel:Vietnam Travel Video PostCard
Your Own Personal New Orleans Tour (Travel Guide): Seven Things You Must Do To Have a Fabulous Time in The Crescent City - A Guide For Visitors and Locals Alike
Book (CreateSpace Independent Publishing Platform)