Travel Asia care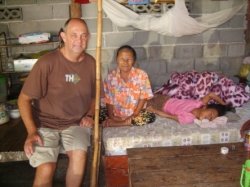 Jan and Janny
For four years in a row Jan and Janny visited Bob during winter. Directly below is the travelogue of 2015. Further down you can read their story of last year.
Travelogue 2015
Once again we have been in Thailand for seven weeks. We visited the refugees of the Karen tribe in Pala U.
We collected money for the project of Bob: The collection at our birthdays yielded an amount of money. Besides we had the contents of the charity kitty of the cafe of our daughter in law. Furthermore we received several gifts. Thanks to all who contributed to this, also on behalf of Bob!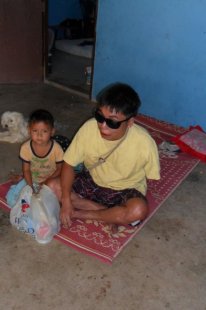 In Thailand we bought candies, cookies and cans of fish. The remaining of the amount was given to Bob. He uses it for the food project, diapers for two disabled children and medicine for one of those children. Currently Bob provides 22 families with food. He delivers this at the Bible school.
The reunion with the people of the Bible school and the families is cordial. It is unfortunate that we can not understand the families, but using sign language helps a lot. It is nice that they knew us from previous times, it feels good.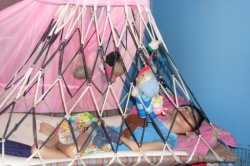 The family of grandmother with her disabled granddaughter (18 years) is worrisome. Grandma can not match the care for her. Unfortunately the mother of the other family we visit is not at home. We only meet the father with the youngest child and the disabled daughter, lying in her hammock.
Bob brought a bucket filled with all kinds of products to the families and staff of the Bible school, as Christmas gift. This was appreciated very much.
For twho times we have been to two slums to bring food with a group of people from the church in Hua Hin. So we fully realize how fortunate we are here in the Netherlands.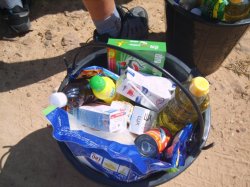 Jan and Janny
Travelogue 2013
This year Jan and I have been back for four weeks to Thailand. Together with Bob we visited the Karen Refugees in Pala - U. We would go to the two families we also visited last year. We are allowed to take pictures to show at home and to those who have donated money.
We decided that we do not want gifts anymore on our birthdays, and if people still want to give something, then we would like to receive gift for the project. This resulted in a nice amount of money. From the parents in law of one of our children we also received the contents of the charity pot of their cafeteria. From the talk group of the church we also received the contents of their 'pot'. In this way we could surprise Bob with a nice amount and we bought extra things in terms of food and toys for the children.
More:
Resources:
See also: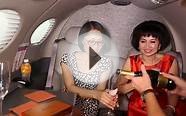 VIP-Jets Bangkok Asia - we care about you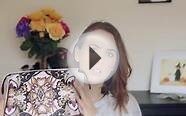 WHATS IN MY TRAVEL BAG l Asia Edition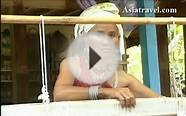 Mae Hong Song Holiday, Thailand by Asiatravel.com
MOCREO® Universal World Wide All-in-one Safety Travel Charger Wall Charger Adapter Plug Built-in 2.1A Dual USB Ports - Safety fuse Protection (Black)


Wireless (MOCREO)




AVAILABLE IN 150 COUNTRIES: Workable in over 150 Countries; USA, Canada, UK, Germany, France, Spain, Italy, Australia, China, Mexico, Brazil, Peru, Japan, Malaysia...
CHARGE MULTI DEVICES AT THE SAME TIME:Dual USB Ports allows for charging of USB devices.Well the AC power socket can work for other device. Convenient and without...
SAFETY AND CONVENIENT TO USE : Plug and play, no extra set up, the device with a apare fuse in case of burnt, we also passed FCC CE RoHS Certified.
COMPETIBLE WITH ALL KINDS OF DIGITAL PRODUCTS : World Adapter Plug competible with almost all USB Devices like, Apple, Samsung, Sony, Blackberry, HTC, Lenovo, LG...
PLEASE BE CARE OF HIGH POWER APPLIANCE: This is not a converter, in case if burnt out, please don t use a high power appliances like hair straightener and water...
Troika Travel Folder, Black (BOK49LE)


Office Product (Troika)




Black travel pouch with zipper
Suitable for tickets, passport, and 10 cards
Ballpoint pen included
Sleek design is perfect for travel
Designed by TROIKA Design Werkstatt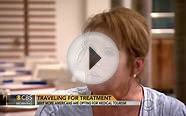 Medical tourism: Americans traveling for cheaper health care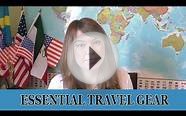 Essential Gear for Travel in Asia
#1 Dark Spot Corrector Travel Size 10g -2 Pieces - Top Selling in Korea and Asia!- Chaldduk Immediate Whitening Cream - Made in Korea][reduce Spots/freckles/acnes Scars/wrinkles-free Gift -Usa Seller-buy 10 Get 1 Free OST Whitening C20 Cream


Beauty (CHALDDUK)




Chaldduk Whitening Cream travel size 10g. ( Whitening Cream snails ) Authentic Made In Korea 10g
Tip for your uneven skin color Chaldduk Whitening Cream !! Not only for the body but also can be used for the face . With extracts from Lemon and snails Oily help...
For lady who loves make up and cant leave without make up. You can use this Instant Whitening Cream to replace for your current make up without any side effect...
Easy way to have an even Skin Tone and beautiful Skin as Korean Movie Stars and other Super Stars. Only takes 1 minute for a confident ,natural healthy looking...
A cream will be used to support the perfect white, bright white and clear Skin. Formula white nursing super-efficient with powerful whitening ingredients for a radiant...

Travel Smart by Conair Polarized Adapter Plug - Southern Europe, parts of Africa, Asia, Caribbean, Middle East


Health and Beauty (Travel Smart)




Allows you to plug in two appliances at once
Insulated pins for added safety
For use for dual voltage appliances and with converters and transformers
Heavy gauge plastic for durability and performance
Accepts one grounded appliance and one polarized/non-polarized appliance

Punchalee - Natural Total Whitening Paste, Asia Traditional Toothpaste 35g [Excellent Quality]


Health and Beauty (Punchalee)




help protect cure about the gum and the tooth
Prevent inflammation of the gums and teeth.
hold over mouth smell Reduce scale formation
Brush twice a day and you ll know your teeth are cleaner
Enrich of Natural herb
Popular Q&A
It is a travel forum that specialise providing questions and answers for tourist coming to Asia for holiday. TravelAsiaForum.com is the latest travel forum that provides information and vacations tips for travellers planning to countries like Taiwan, Philippines, Hong Kong, Singapore, Japan, Cambodia, Maldives, South Korea ,China, Thailand, Vietnam, Indonesia, Malaysia Laos and other countries in Asia