Traveling Quotes by famous people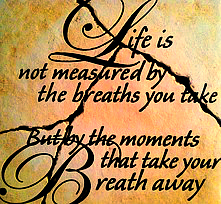 Author unknown. Photo used courtesy Travel Goal Getter.
"This is your planet. You really should come see it sometime."
G Adventures
"Nothing lasts forever, except the day before you start your vacation."
Gayland Anderson
"To travel is to live."
Hans Christian Anderson
"I long, as does every human being, to be at home wherever I find myself."
Maya Angelou
"The World is a book, and those who do not travel read only a page."
Saint Augustine
"Travel, in the younger sort, is a part of education; in the elder, a part of experience."
Francis Bacon
"Travel is about the gorgeous feeling of teetering in the unknown."
Gaby Basora
"We wander for distraction, but we travel for fulfillment."
Hilaire Belloc
"I've got a theory that if you give 100% all of the time, somehow things will work out in the end."
Larry Bird
"To my mind, the greatest reward and luxury of travel is to be able to experience everyday things as if for the first time, to be in a position in which almost nothing is so familiar it is taken for granted."
Bill Bryson
All journeys have secret destinations of which the traveler is unaware."
Martin Buber
"A journey is best measured in friends, not miles."
Tim Cahill
"Once you have traveled, the voyage never ends. The mind can never break off from the journey."
Pat Conroy
"Everywhere is my home. My roots are inside me."
Julie Demesy
"Like all great travelers, I have seen more than I remember, and remember more than I have seen."
Benjamin Disraeli
"In life some people trip and some fall but some take that trip and make a beautiful dance out of it."
Rob Dyrdek
"Adventure is worthwhile in itself."
Amelia Earhart
"The important thing is not to stop questioning. Curiosity has its own reason for existing."
Albert Einstein
"I love to travel, but hate to arrive."
Albert Einstein
"It is probably a pity that every citizen of each state cannot visit all the others, to see the differences, to learn what we have in common, and come back with a richer, fuller understanding of America - in all its beauty, in all its dignity, in all its strength, in support of moral principles."
Dwight D. Eisenhower, Vermont State Dairy Festival, Rutland, Vermont, June 22, 1955
"The key to life is not in what you attain, but the journey made in its attainment."
Eleesha
"The journey not the arrival matters."
T.S. Eliot
"Though we travel the world over to find the beautiful, we must carry it with us or we find it not."
Ralph Waldo Emerson
"Experience, travel – these are as education in themselves."
Euripides
"When you travel, remember that a foreign country is not designed to make you comfortable. It is designed to make its own people comfortable."
Clifton Fadiman
"Travel makes one modest. You see what a tiny place you occupy in the world."
Gustave Flaubert
Loaded Questions On The Go card game


Toy (Loaded Questions)




200 Creative and Playful Questions
Question Cards, Answer/Score Pad, Two Pencils
The Classic Game of Who Said What
From the makers of the bestselling game, Loaded Questions
Made in the USA
Power Bank - 9000 mAh - Never Run Out of Juice - Dual charging power battery for Smartphones, Tablets, IPhone4s-5-5s iPads - iPods - PSP - Nintendo - DS DXi - Samsung Galaxy S3-S4-S5 - Go Pro Blackberry Sony Xperia Z Z1 Nokia Lumia AT&T - Verizon - Sprint & all other 5V USB powered devices. Great for Traveling- Power outages and Emergencies- (Limited time offer)12 Month no questions asked Guarantee !!!


Wireless (RhinoShellPro)




Fully charge your iPhone-Smartphone in less than 1 hour! AT&T-Verizon-Sprint
Simultaneously charge your Smartphone and Tablet.
Portable-Light weight-Convenient.Fits into your pocket or handbag.
Will charge most Tablets upto1 full charge. A survival kit must have!
Will hold its charge for upto six months in standby mode. Great for emergencies.
Popular Q&A
What is a famous quote from The Time Travelers Wife?
Richard DeTamble: [many years after his wife's death] I still miss her. I miss her every day.