Travel Dog Crates Reviews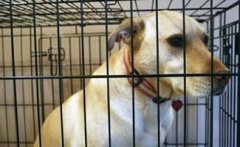 Is your dog chewing up shoes and destroying your furniture? You might want to consider a crate! While crate training is key for puppies, it may also be a good choice when your little pup isn't so little anymore. It creates a little indoor escape for dogs and becomes a home within your home. Find out why dog crates can be a great option for dogs of any age and read our review of the various types of crates available. We've even picked out the best dog crate for each category.
The Importance of Dog Crate Training
You've probably heard that dogs are den animals, and that they look to their crate for comfort in times of stress. A crate, approached correctly, provides this den-like structure within your own home, giving your pup a safe place to sleep, retreat, and maybe even eat. For more on the process of crate training, visit our article,
Types of Dog Crates
You may be thinking: How many types of crates can there actually be? The truth is: A LOT! Not all dog crates are created equal though, and you'll want to make sure you choose the type that's best for your life, and your dog. The main types of dog crates are:
Wire Dog Crate
Wire crates are well-ventilated, and often portable (though they can be a bit heavy). They're a great option for dogs that like to see their surroundings, need a little extra air-flow, and aren't escape artists. While they aren't the most attractive options, and can be noisier than other types of crates, wire crates are also easy to clean, and offer removable panels so your puppy can grow into the space. You can also find some which are collapsable for easy transport.
Best Wire Dog Crate
Midwest Life Stages Double-Door Folding Metal Dog Crate ($49.99 ) – This versatile metal crate with adjustable divider offers front and side access, bolt latches, and comes with a one-year warranty. This is the one that a couple of our team members use for their pups.
Plastic Dog Crate
Plastic dog crates are also not the most attractive kennel option, however they're great for dogs that like a little more privacy and seclusion when they sleep. But, they're not as well-ventilated or as easy to clean as the wire crate. Plastic crates have a cozy vibe and are difficult for dogs to escape from. Plastic crates are also great for air travel and are easy to store when they're not in use (the top half comes off so you can easily stack the two halves).
Best Plastic Dog Crate
Petmate Two-Door, Top-Load Kennel ($36.99 ) – Two-door construction on this plastic crate provides easy access for your pup, while steel and plastic combine to provide safety and strength.
Soft-Sided Dog Crate
There are a several pluses for soft-sided crates: they're lightweight, great for travel, and store easily. However they're really only an option for smaller dogs. They're also more difficult to clean, can be easy for curious pups to escape from, or destructive pups to chew through.
Best Soft-Side Dog Crate
Petnation Port-a-Crate ($48.72 ) – Lightweight, portable, and made of tightly woven mesh fabric surrounded by an extra-strong steel frame, this crate sets up and folds down in seconds.
See also: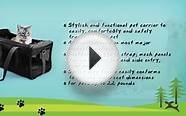 Dog Carriers-Sherpa Original Deluxe Carriers Review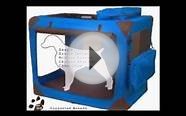 Pet Gear Generation II Deluxe Portable Soft Crate Review!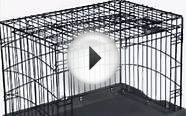 Pet Gear Travel Lite Steel Crate for cats and dogs up to ...
Pet 45" Playpen Foldable Portable Dog/Cat/Puppy Exercise Kennel For Small medium Large. The Best Indoor And Outdoor Pen. With Cary Bag. Easily Sets Up & Folds Down & Space Free
Pet Products (Zampa)
DESIGN; 8-Pannel, protected seams and reinforced corners. Made from water-resistant materials.
UPDATED; THIS PLAYPEN IS NOW REINFORCED WITH ATTACHED FLOOR MAT TO ENSURE YOUR PETS SAFETY. (The reviews that states that s its Velcro is from the previews design)
MEASUREMENTS Playpen Size: 45 Dia. x 24 H, Panel Size: 19-1/4 W x 24 H, Door Size: 13 W x 14-1/2 H, Mesh Cover Diameter: 40 , Bottom Diameter: 43-1/2 , Carrying...
VALUE: Enjoy 32% OFF today now only $54.49 Included you get. Carrying case + 4 metal spikes for outdoor safety.
WHAT TO EXPECT FROM ZAMPA; For you to be completely satisfied we listen to our customers. We give you a 100% money back guarantee for 1 year, and if you have any...
Wire Home Training Dog Kennel, 34"w X 22"d X 25"h


Pet Products (Aspen)




Door opening: 18.5 W x 19.5 H
Easy fold-down design
Rust-resistant with a black coating
Ideal for dogs 50-70 lbs or 21 tall, such as Australian Shepherds, Chow Chows and Dalmatians
34 W x 22 D x 25 H home dog kennel is effective for teaching good behavior
FFMODE Pet Dog Carrier OxFord Cloth Breathable Comfortable Travel Tote Shoulder Bag, Green, M


Pet Products (FFMODE)




S:33x22x20cm (13*9*8 inches),M:43x27x24cm (17*11*9 inches)
Includes a removable mat that is convenient to clean
With breathable mesh on 3 sides
Padded carry handle and shoulder strap (adjustable in length)
Comes apart and folds away for easy storage

Thundershirt Behavior Modification Shirt For Dogs - XSmall - Grey


Pet Products (Thundershirt)




Fear of thunder/fireworks
Separation anxiety and Travel anxiety
Crate training
Problem barking and Leash pulling
Hyperactivity

The ALL NEW dogPod - Medium 50" Soft Play Pen. The Zippered Base Makes It the Safest Exercise Crate for Your Dog (Or Cat). For Dogs Who Want a Cozy Alternative to Cold Metal Dog Crates.


Pet Products (Remarkable Monkey)




NEW MODEL with zippered floor. Don t risk the old velcro attachments, you dog can escape. Please check reviews from other models.
100% washable cloth with mesh screens for maximum airflow makes the dogPod a real alternative to traditional dog kennels
Your dog can exercise in this SUPER sturdy dog playpen made from waterproof Oxford 600D cloth and zippered cloth floor and mesh top.
Can be used as a convenient dog travel crate, it s so easy to fold and store or take with you on the road.
Treat your beloved pet to this Medium large 50 soft dog crate. No cold metal bars of wire dog crates, just cozy and soft luxury that is safe and secure.