Travel Amsterdam to Paris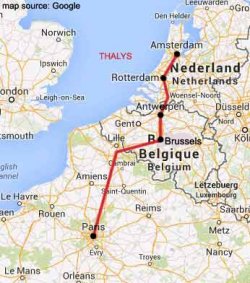 1. Amsterdam-Paris by Train
The train is without doubt the best way to travel between Amsterdam and Paris. With large sections of high-speed rail track in place in Netherlands, Belgium and France, this journey can be made in under 3 hours 20 minutes. You also have the convenience of departing and arriving in the heart of the city.
The Amsterdam-Paris rail journey is made using the Thalys trains which runs up to 10x daily between Amsterdam Central station and Paris Gare du Nord. The Thalys makes stops at Schiphol, Rotterdam, Antwerp and Brussels Zuid/Midi.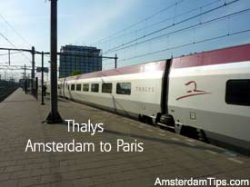 Classes of travel on Thalys are Comfort 1 (1st class) and Comfort 2 (2nd class). Comfort 1 includes drinks and snacks served at your seat, newspapers/magazines and free WiFi internet. Comfort 2 passengers can purchase food, drink and WiFi credits at the onboard bar. All seats onboard have individual electric power outlets.
Thalys Comfort 1 passengers can also get access to the NS International lounges at Amsterdam, Rotterdam and Schiphol stations.
The cheapest Amsterdam-Paris one-way fares are called "No-Flex" and start at €35 for Comfort 2 and €79 for Comfort 1 - though you should book well in advance as the Thalys is extremely popular. Thalys tickets go on sale 3 months prior to travel.
The highest Comfort 1 Flex fare one-way is €205; Le Salon (a private lounge sitting 4) costs €820.
Reservations are mandatory and prices can increase significantly closer to the travel date. Special offer fares can be a little cheaper than the no-flex tickets - such as 1st Minute fares which are for travel exactly 3 months out.
See also: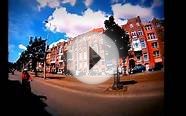 Amsterdam to Paris (with Bicycle)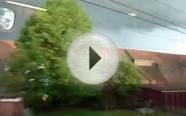 High Speed Train: Amsterdam to Paris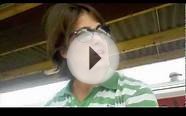 Paris to Amsterdam
VCT VP-109 Universal Travel Grounded Plug Adapter For Germany, Spain, Netherlands, Russia


CE (VCT)




This international travel grounded adapter plug converts a USA or European plug to a plug for France, Germany, Netherlands, Spain and other countries. This adaptor...
For use in Afghanistan, Albania, Algeria, Andorra, Angola, Argenti, Benna, Armenia, Aruba, Austria, Azerbaijan, Azores, Balearic Islands, Bangladesh, Belgium, Belarusin...
Eritrea, Estonia, Faroe Islands, Finland, France, French Guiana, French Polynesia, Gabon, Georgia, Germany, Ghana, Gibraltar, Greece, Greenland, Grenada, Grenadines...
Mali, Martinique, Mauritania, Mauritius, Moldova, Monaco, Mongolia, Montenegro, Morocco, Mozambique, Myanmar, Namibia, Nepal, Netherlands, Netherlands Antilles...
Serbia, Singapore, Slovakia, Slovenia, Somalia, Spain, Sri Lanka, Sudan, Suriname, Swaziland, Sweden, Switzerland, Syria, Tajikistan, Tahiti, Thailand, Tibet, Togo...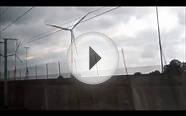 Rail Europe Travel - Eurail Paris to Amsterdam on Thalys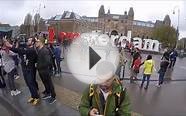 Travel Diary Amsterdam to Paris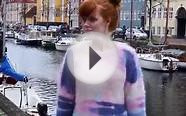 Paris, Amsterdam, Copenhagen and Stockholm Travel Diary
Popular Q&A
What is the cheapest way to travel from Amsterdam to Paris? | Yahoo Answers
If you want cheap but not a bus, you can use a bicycle. If you are a fast rider, you can do it in about 3 days. But if you are a slow rider, you should set aside a week.
Walking is possible too, but you would need a lot of time, not practical for just a holiday.
Or you can hitch hike, best book through a organized hitch hikers site, much safer and more likely to be working. Hitch hiking on the road side has dangers and is not that usual anymore.
If you are still early enough you can book a train ticket for relatively little money:
will sell you the ticket, or you can go to a m…