Travel quotes, Inspirational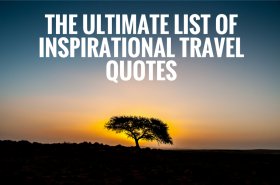 If you thinking of traveling or need some encouragement, I have compiled the ultimate list of inspirational travel quotes for 2015.
"For my part, I travel not to go anywhere, but to go. I travel for travel's sake. The great affair is to move." – Robert Louis Stevenson
"To awaken quite alone in a strange town is one of the pleasantest sensations in the world." – Freya Stark
"A ship in harbor is safe, but that is not what ships are built for" – John A. Shedd
"The first condition of understanding a foreign country is to smell it." – Rudyard Kipling
"Perhaps travel cannot prevent bigotry, but by demonstrating that all peoples cry, laugh, eat, worry, and die, it can introduce the idea that if we try and understand each other, we may even become friends." – Maya Angelou
"To travel is to discover that everyone is wrong about other countries." – Aldous Huxley
"Travel, in the younger sort, is a part of education; in the elder, a part of experience." – Francis Bacon
"The whole object of travel is not to set foot on foreign land; it is at last to set foot on one's own country as a foreign land." – G.K. Chesterton
"I like animals. I like natural history. The travel bit is not the important bit. The travel bit is what you have to do in order to go and look at animals." – David Attenborough
"Travel teaches toleration." – Benjamin Disraeli
"All travel has its advantages. If the passenger visits better countries, he may learn to improve his own. And if fortune carries him to worse, he may learn to enjoy it." – Samuel Johnson
"The World is a book, and those who do not travel read only a page." – Saint Augustine
"Remember what Bilbo used to say: It's a dangerous business, Frodo, going out your door. You step onto the road, and if you don't keep your feet, there's no knowing where you might be swept off to." – JRR Tolkien
"The real voyage of discovery consists not in seeking new landscapes but in having new eyes." – Marcel Proust
"A good traveler has no fixed plans, and is not intent on arriving." – Lao Tzu
"The traveler sees what he sees, the tourist sees what he has come to see." – G.K. Chesterton
"Experience, travel – these are as education in themselves" – Euripides
"We must go beyond textbooks, go out into the bypaths and untrodden depths of the wilderness and travel and explore and tell the world the glories of our journey." – John Hope Franklin
"Two roads diverged in a wood, and I — I took the one less traveled by, and that has made all the difference." – Robert Frost
"Of all possible subjects, travel is the most difficult for an artist, as it is the easiest for a journalist." – W. H. Auden
"Voyage, travel, and change of place impart vigor"...
See also: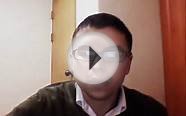 The Most Inspirational Travel Quotes of All Time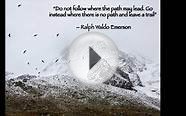 Inspirational Travel Quotes from Scott Keating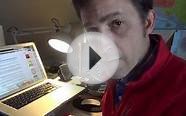 Top 10 Inspirational Travel Quotes by Dead Men with Beards
Be Awesome Inspirational Motivational Happiness Quotes Ceramic Gift Coffee (Tea, Cocoa) 11 Oz. Mug


Kitchen (Culturenik)



Travel is the only thing you buy that makes you richer home Vinyl Wall Decals Quotes Sayings Words Art Decor Lettering Vinyl Wall Art Inspirational Uplifting
Lawn & Patio (Epic Designs)
Measures approximately 23 x11
Vinyl color Matte BLACK--Highest Quality Vinyl guaranteed!!
Detailed instructions included
Actual size may vary from picture. Please see size above.
This design has a registered copyright. Please email us if you see another seller copying this design.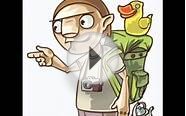 Inspirational Travel Quotes - 100 Places To Visit Before ...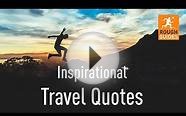 50 inspirational travel quotes: part 2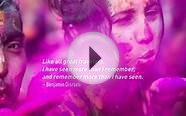 50 inspirational travel quotes: part 1
Eat Well Travel Often Quote Inspirational Motivational Typography Poster Print Home Decor 8x10 Framed w/ Mat


Single Detail Page Misc (Wall Vibes)




Made in USA
Frame Size: 12-1/8 w x 15-1/8 h x 1-1/4 d
Viewable Area (Matted): 8 x 10
68 lb. Ultra Pro Satin paper - A semi gloss paper designed to be viewed in all angles. Ink sets in perfectly without smudging.
Professional Epson K3 Vivid Magenta Ink - Highest grade Ink in the market to produce pixel perfect Prints

Design with Vinyl DT1357-275 Decor Item No Matter What Road I Travel Quotes Inspirational Quotes Picture Art Peel and Stick Vinyl Wall Decal, 8-Inch x 32-Inch, Black


Home Improvement (Design with Vinyl)




All pictures in this ad DO NOT represent the ACTUAL size of the Decal
Add flair to any room in your home. Redecorate with wall decals.
Inspire yourself and your family with our ready to use wall quotes & Picture Decals.
Its easy to design a wall with wall Decals.

Funny Mug - Of course I'm right. I'm Bob, movie quotes - 11 OZ Coffee Mugs - Inspirational gifts and sarcasm - By A Mug To Keep TM


Kitchen (Fred And Levine)




A Mug To Keep is a registered trademark of Fred And Levine.
PRINTED ON BOTH SIDES. High quality ceramic. Treat yourself or give as a gift to someone special.
Safe for Microwave and dishwasher. Resistant for house and restaurant use. Large, easy-grip handle
Great gift for your best friend, dad, brother, boss or boyfriend. This represents an affordable novelty they will appreciate for years.
Ideal to show your love on Valentine s Day or to give a nice surprise on a birthday party.
Popular Q&A
What is Gandhi's inspirational quote?
Here are some of my favorite Gandhi quotes:
"Action expresses priorities."
~ Mahatma Gandhi
"You must be the change you wish to see in the world."
~ Mahatma Gandhi
"The weak can never forgive. Forgiveness is the attribute of the
strong."
~ Mahatma Gandhi
"It is the quality of our work which will please God and not the
quantity."
~ Mahatma Gandhi
"My life is my message."
~ Mahatma Gandhi
What is an inspiring quote?
(if u were gonna say it 2 someone, it would be) "Excuses are like the nails that build up a house of failure, and ur gonna be in that house some day!" Or it could be just "Excuses are like the nails that build up a house of failure."
Sources: Evan Bourque
An inspiring quote is a short text that moves the reader.