Travel Dog Beds for large dogs

1. Shop by Category
What makes a comfortable dog bed is as much a matter of your pet's personality as it is construction and quality. Select a style to match your pet's lifestyle, age, or temperament from these recommendations:

Ideal for larger breeds - but good for all dogs - these low-profile nesters are for pups who love to sleep with their head cradled on an armrest or a pillow. Styles vary from half-bolsters to full 360-degree support, and feature either built-in or removable pillow pads.


Sleek and supportive mats and pads turn any uncomfortable spot into a place to bed down. Usually foam-constructed, these universal beds are an economical way to provide comfortable rest in the home or on the go. For older or arthritic pets, consider extra thick orthopedic pads.


The security of sinking deep into a high-walled nest or overstuffed pillow-ball make this bed category an all-time favorite for smaller breeds and other little snugglers.


Built to protect aged or ailing joints, orthopedic beds provide maximum support with medical-grade foam and/or box spring construction. In this category you'll find a mix of bolsters, mats, nests, and traditional beds that our doctors recommend for older or arthritic pets.


Traditional mattress-style beds come in a variety of shapes and designs to meet the needs of almost any pet. You'll find economical polyfil beds, no-shift baffled beds, and solid support foam models. Choose from stylish, chew-resistant... even waterproof options - many with washable zippered covers.


Instant bedding wherever your adventures take you! From roll-up sleepers and SUV liners to all-weather cots and patio beds, these travel beds outfit your pet with a comfortable destination after a long day's journey.
2. Choose Your Construction
A dog bed's fill determines its support and longevity. Most economical models use polyfil alone, whereas top models combine foam, polyfil, and box spring support for superior comfort. Compare and choose which construction is best for your pet:
Polyfil
High-loft fibers made from recycled soda bottles you can fluff and refill again and again. Superior quality compared to store-bought polyfil, but at a price that's comfortable too!
Baffled Polyfil
Baffled beds float your dog on a raft of interlocking poly-filled tubes. Individual chambered design prevents shifting or bunching for uniform comfort and support.
Foam
Solid support with depth and durability. You'll find both classic and orthopedic foams in mats, cuddlers, and box beds. The best choice for older or arthritic dogs.
See also: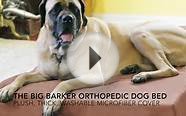 What are the Best Dog Beds For Large Dogs?
Dog bed sale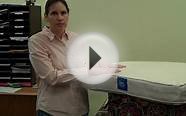 Serta Dog Bed
K&H Manufacturing Travel/SUV Bed Large Gray 30-Inch by 48-Inch


Pet Products (K&H Manufacturing)




Water resistant bolster surrounds your pet in comfort
Stay put bottom for stability
Easy wash and care
Matching Cargo and Seat Covers available
Great for travel, camping, or in the home
One year limited warranty
Chuckit Fetch Games Travel Bed


Pet Products (Canine Hardware)




Polyester microfiber on top offers a soft and suede feel; durable ripstop nylon cover on bottom
Machine washable design features double offset quilting throughout that eliminates material separating and shifting during the laundering process - no clumps!
Bed is 30 inches by 39 inches in size, ideal for large to small dogs
Travel Bed comes with a 9 x 15 in. nylon stuff sack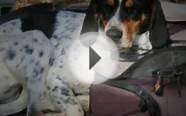 Dog Beds Blog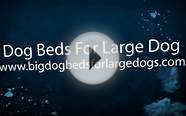 Dog Beds For Large Dogs
OxGord® Elevated Pet Bed Cat / Dog Portable Camping Cot "Travel Gear Approved" Steel-Framed - 2015 Newly Designed, Black 43.5" x 29.5"


Pet Products (Oxgord)




Buy a Trusted Brand Name - OxGord® is Rated #1 by Consumers when it comes to Pet Supplies & Accessories
Elevated design comfortably keeps your pet off the cold, hard ground
Rugged design makes this bed great for daily use, outdoor or indoor
Conveniently aids in maintaining a healthy pet sleep schedule, Easy to wash and maintain
Dimensions for Frame: 43.5 (Length) x 29.5 (Width), for Bed 29 (Length) x 22 (Width)

Kurgo Wander Dog Travel Bed, Large, Brown


Pet Products (Motivation Design, LLC)




Ideal for cars, camping, office, traveling, crates, or on furniture
Rubber bottom prevents bed from absorbing moisture whether outside on the patio or at a campsite
Rolls up like a sleeping bag with a handle for easy transport
Recycled Polygo fleece top for comfort and padding
Measures 36 x 48 x 1.5 inches when open; 17.5 x 8 inches when rolled

Travel Bed Throw Blanket- Large (color may vary)


Pet Products (Vo-Toys)




Your Pet Can Rest Easy
Super Comfy Travel Bed
Great For Dogs All Sizes
Machine Washable
Popular Q&A
Where can one find more information about large dog beds?
One can find more information about large dog beds at any animal store like Petco. However, there are other mass merchandise companies that can also provide someone with information.
How to travel with large dogs by air? | Yahoo Answers
The dog has to be less than 20 lbs travel in the passenger area. A larger dog can travel in the cargo hold. Most vets don't advise this for certain breeds including flat nosed breeds or especially hyper, active, aged, or skittish breeds. It is dark and loud and lonely down there and scary for them. Giving a sedative is not advisable because of the reduced oxygen content at high altitude.
My suggestion is you find a great kennel or a friend for your dog to stay with while you are gone. If this is a permanent move then I suggest you plan on having your belongings shipped and you and the …