Travel Bass Rods
Okuma Citrix Travel Rod Review Looking for a travel rod for your fishing adventures? We put this one to the test. See the results inside!
By Jeff Howell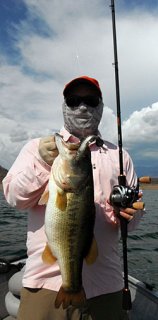 Lunker caught with an Okuma Citrix Travel rod
Having become very familiar with travel rods over the years, I have gotten to know what I like and do not like about them. This knowledge allows me to fine tune my rod selections for the types of fish I am fishing for, as well as the types of baits I wish to present to them.
Until recently, there were only a couple options for throwing larger swimbaits for bass on a travel rod. These rods consisted of heavy overpowered broomsticks, which quite frankly didn't get the job done. Mainly built for other species, these rods were made for trolling or vertical jigging- not chucking big swimbaits all day.
Fast forward to last month. I acquired an Okuma Citrix Travel CIT-C-7114H. Upon getting the rod in the mail, I quickly opened the box to find a nice, convenient travel rod tube. After opening the tube, I found a pleasant surprise - the 4-piece rod was packed into a pouch that has a slot for each piece to fit in, to protect each piece even further from damage while the rod is broken down. This is something that I had only gotten from my top of the line $300+ travel rods before. Until this point, I was stuck asking my wife to sew me these pouches for my other rods. I am sure she was as happy as I was to find this rod come with it from the factory, and she didn't need to make one for this rod!
The first things you notice are the aesthetics after the rod is assembled. It looks as if it comes straight from Japan, with its JDM flashy colors and trim bands. The black EVA grips accented with metallic burnt orange trim bands really pop on the flat grey IM8 graphite blank. The Pac Bay MINIMA reel seat is very comfortable, and securely holds the reel to the rod.
Each guide is wrapped with a shiny black wrap to really flow well with the rest of the rod. The guides are ALPS stainless steel guide frames with Zirconium line guide inserts for use with braid or mono lines. The size and spacing were great for travel, as one of my biggest complaints about some of my other travel rods were the guide sizing. Most put oversized guides on the rods, which seem to get beat on while putting the rods in and out of the storage tubes, as well as while on the water on the boat deck. These guides are closer to a standard size and seem to hold up well.
Next thing to do was take it on vacation with me and put it to the test! Off to Lake Baccarac in Mexico which is one of the best big bass factories in the world!
See also: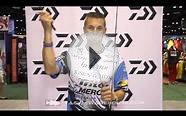 Daiwa Ardito-TR Travel Rods with Randy Howell | ICAST 2014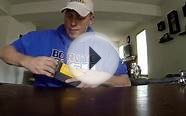 St. Croix Triumph Travel Rod (Product Review)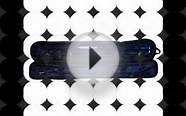 Bass Fishing Maniacs Review - Okuma NOMAD Travel Casting Rod
Traveler Guitar SPD HRBLU Speedster Hot-Rod Electric Travel Guitar with Gig Bag, Blue


Musical Instruments (Traveler Guitar)




Full 24 3/4 Scale Electric Travel Guitar
Built-in headphone amp with 4 tones and aux-in for jamming with an external signal
Fits in airline overhead bins
4 lbs. 12 oz. & 28 long
Deluxe Gig Bag Included
Danelectro N10B Honey Tone Mini Amp in Burgundy


Musical Instruments (Danelectro)




Leather Handle
Clean and Overdrive Tone Settings
Belt Clip for Travel Use
Louder than most mini-amps
Offers a great clean, or overdriven sound
Bass Pro Shops Micro Elite Spinning Reel - Travel Rod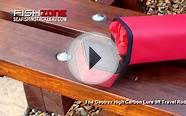 Geotrex lure fishing travel rod for Bass and general spinning
Top Stage® Black Tripod Guitar Stand, with Secure Strap


Musical Instruments (Display Gifts Inc.)




Guitar stand compatible with all electric, acoustic, and bass guitars
Friction locking knob locks into V-shaped groove which avoids rotation
Stepped yoke and solid steel rod with locking keyway
Non-slip rubber end caps, very Light to carry and travel.
Sturdy Sheet metal leg housing

Squier 'Mini' - Torino Red


Musical Instruments (Squier by Fender)




With a shorter 22.75 string scale, small neck profile and a downsized 3/4 size body this Squier is an excellent fit for the youth
On the go and short on space, this Squier Mini is a great travel companion
Chord with comfort and bend strings with ease from this C shaped satin finished neck, 20 medium jumbo frets and modern 9.5 fingerboard radius
Explore various tones from rich bass to cutting treble sounds from the 3 single coils pickups, one tone control, master volume and the 5 way pick up selector switch
Enjoy maximum playability with various string gauges via the adjustable truss rod and the chrome fully adjustable fixed to body hard tail bridge

CruzTools GTSH1 Stagehand Compact Tech Kit


Musical Instruments (The Music Link (AXL))




19-piece magnetic bit set and screwdriver-style bit holder, with both inch and metric hex wrenches, screwdrivers, and sockets to handle virtually any make and model...
A capo and 15-blade thickness gauge with integrated ruler permit neck measurement, which is essential to proper truss rod adjustment
Also included are downsized string cutters and a string winder
Everything fits into an uber-compact pouch that is ready to hit the road