Traveler by Trail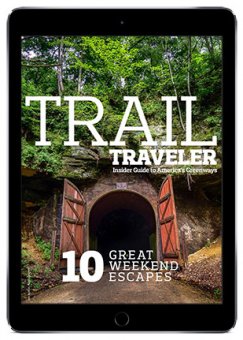 The beautiful Lehigh Gorge on the D&L Trail in Pennsylvania | Photo by Mike Seigafuse
I watched my 5-year-old climbing the hillside with a mixture of pride, amusement and, most of all, profound happiness. Her blond hair glowed like sunlight between the patchy shadows beneath the treetops as she bounded up the slope with the kind of energy that only children have. We were in a city park not far from home, with the sounds of traffic and human chatter close at hand, when it hit me that it was time to take her on a big adventure—somewhere more remote and challenging, with exciting new possibilities around every corner. She turned her head, flashing me a smile over her shoulder, and I thought: She's ready.
But where to go? It's the eternal summer question. For the everyday adventurer with a passion for the outdoors but no particular skills—like my daughter—we have an answer. Actually, 10 answers. RTC recently launched Trail Traveler, a new digital magazine for tablet computers that is chock full of details for planning trips on 10 premier rail-trails across the country.
In this inaugural issue, RTC shares our favorite spots for an outdoor weekend getaway, including not just the trails themselves, but also recommendations for all the things a traveler needs at every part of their journey: lodging, restaurants, bike rentals and fun attractions along the way. Links throughout each article help you nail down all the details within moments, and the magazine's maps help you find the locations once you arrive.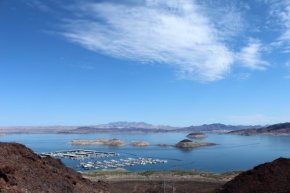 If you're not taking along young ones, each article also includes suggestions for other outstanding trails or parks nearby to extend your trip, so you can customize your itinerary to fit your needs and desires.
Below you'll find the table of contents for the first issue of Trail Traveler, as well as several of the magazine's photos to intrigue you, like the first lick of summer ice cream. Enjoy!
A view of Lake Mead from the Historic Railroad Tunnel Trail in Nevada | Photo by Eric Arnold Photography
1Wild West Adventure
Bike through a spectacular river canyon, alpine forests and old railroad tunnels on northern California's scenic Bizz Johnson Trail.
2Outdoor Jackpot in Vegas' Backyard
Desert vistas, crystal blue Lake Mead and stunning views of the Hoover Dam make the Historic Railroad Tunnel Trail, just 30 miles from Sin City, a sure bet.
3Pocono Mountains Adventure
Waterfalls, mountain views and the charming town of Jim Thorpe await you on Pennsylvania's D&L Trail.
The romantic beauty and unique sites of the Virginia Creeper Trail make it a perfect getaway. | Photo by Cindy Elswick McCrary
4Perfect Couples Getaway
Beautiful woodlands, charming B&Bs and nearby wineries make the Virginia Creeper Trail the ideal setting for a romantic escape.
5Relaxing Escape from the Big Apple
Just 90 miles north of New York City, the Wallkill Valley Rail-Trail offers bucolic landscapes, emerald-green tree canopies and a stunning century-old trestle.
6Pathway to the Past
If you've never been on a rail-trail, Wisconsin's Elroy-Sparta Trail is a not-to-miss experience with three dramatic tunnels, more than two dozen trestles, and a charming depot and railway museum.
Sunset in Fontainebleau State Park, accessible from Louisiana's Tammany Trace | Photo by Lana Gramlich
7Journey to Lake Michigan's Sparkling Shore
A covered bridge, leafy forests and friendly small towns make the trip along the Kal-Haven Trail just as fun as its final destination, the popular beach resort town of South Haven.
See also: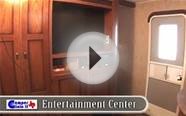 Aspen Trail Travel Trailer by Dutchman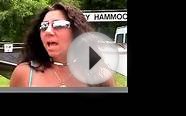 Trail Days 2005 Traveler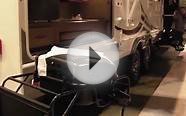 North Trail Caliber Edition 32BUDS Travel Trailer by Heartland
Merrell Men's Traveler Field Mid Boot, Black, 12 M US


Shoes (Merrell Footwear)




cushioning
grommets
firm-ground
slip-resistant
treaded-sole
The Oregon Trail: Adventures along the Oregon Trail, 5th Edition


Software (The Learning Company)




Make the wise choices as you avoid hazards and face the many challenges of frontier life
Go hunting, buy the right supplies, talk to Indians and fellow travelers and much more
Along the way you ll discover useful wilderness knowledge like avoiding poison and crossing rivers
Kids will also get to learn the complete story of the Donner Party
Ages 9 and up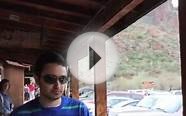 APACHE TRAIL with Traveler Bahador by Jumping Norman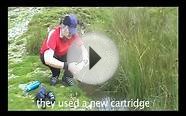 Travel Tap Water Filter Review by Trail Testers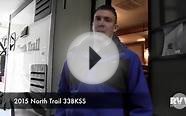 2015 North Trail 33BKSS Travel Trailer by Heartland at RV ...
Merrell Women's Chameleon Shift Traveler Hiking Shoe, Black, 7 M US


Shoes (Merrell Footwear)




M select fresh footbed
M bound cushioned midsole
Nylon arch shank
5 millimeter lug depth
Merrell air cushion

Merrell Men's Traveler Rove Slip-On Shoe,Canteen,9 M US


Shoes (Merrell Footwear)



Society6 - The Traveler's Trail Stationery Cards by Classic Mixup Art


Wireless (Society6)




Stylish and Functional Stationery Cards
Artwork by Classic Mixup Art
An independent artist profits from every purchase on Society6.
Popular Q&A
Which tribe traveled the Trail of Tears?
Three tribes traveled during the trail of tears the Seminole, Chereoke, and Chicksaw.