Travel Golf Bag Reviews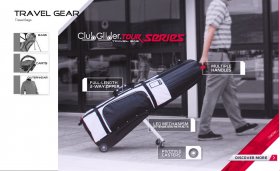 The headline says a mouthful: BEST CLUB CARRIER ON THE MARKET? SUN MOUNTAIN'S CLUBGLIDER WINS BY A LANDSLIDE!
The article continues:
"Seldom do I become so excited with a piece of golf equipment as with Sun Mountain's ClubGlider four-wheeled travel golf bag carrier. Unlike other golf inventions, which may promise to shave a stroke or two off your game, the ClubGlider actually improves your life. I often travel by air and have lugged my golf bag to all points in the US and many abroad. While I love playing new courses, I dread struggling with transporting my golf clubs on long walks in and around airports. No matter how lightly I pack my golf travel bag, the strain on my forearm, shoulders, and back in bending over, lifting, and dragging my bag and all begins to take its toll long before I even arrive at my destination or hit a shot. No more, my days of drudgery are over with Sun Mountain's ClubGlider to the rescue.
My golf travel equipment has evolved from the canvas bag to the heavy, but durable plastic carry cases such as SKB makes and then gravitated to the lighter, heavy-duty fabric wheeled ones that Club Glove makes. All have served me well, but my ClubGlider is worlds ahead of the competition!"
Other results of our Sun Mountain versus Club Glove internet search revealed:
Golf writer Mike Bailey saying – "…there's not an easier travel cover to pull or push around the airport."
And, Larry Olmsted at Forbes writing —
"Anyone who flies to play golf, even just once or twice a year, will greatly appreciate a high quality travel bag…. I fly for golf more than a dozen times a year, and I've tried just about every top brand on the market, and for years I have used the ClubGlider from Sun Mountain. I recommended it last season, but for 2014 the new version is markedly better. Mine is about five years old and I just tested a new one they sent and it is significantly lighter – about three pounds – yet with better padding around the club heads, more effective tightening straps and easier to access side pockets. But the ClubGlider keeps its major advantage, the unique innovation of retractable legs with wheels, which makes it roll much, much better than other versions – it becomes upright on four wheels and you can even push it. This is especially great in airport check-in lines when everyone else is kicking or dragging their bag a few feet each time the line moves. You don't have to use the extra legs and it still rolls fine when pulled behind you…." Read full article here –
See also: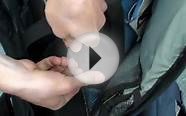 Callaway X-Series Stand Golf Bag Carrier Review by ...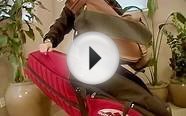 ClubGlider Golf Travel Bag by Sun Mountain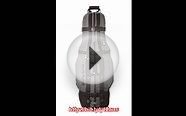 Club Glove Last Bag - XL Golf Travel Bag - Charcoal Reviews
#1 Rated Travel Towel - MICROFIBER - Guarantee Bleed Free - Includes Hook


Sports (Shandali)




LIGHTEN YOUR LOAD WITH 83% LESS WEIGHT: Weighing less than 150grams-that s less than an average apple-the Shandali Ultrasport Travel Towel is 51% lighter than leading...
STAY ULTRA-DRY NO MATTER WHAT THE OCCASION: Our towels are 100% microfiber, which drys enormously faster than the leading alternatives. Microfiber drys 287% faster...
HANG IT UP WITH OUR EASY-TO-USE HOOK: One feature we re very proud of it our easy-to-use hook. Other towels either have a very small hook that isn t really that...
SOFT ON YOUR SKIN: Tired of itchy towels? Yup, we were too. That s why we decided to use a 100% microfiber towel with a high thread count, the result is a super...
SAVE YOURSELF MONEY WITH A MULTI-PURPOSE PRODUCT: We want to help each customer save at least $50 this year by using our towels for a number of activities, removing...
Bag Boy T-700 Wheeled Golf Club Travel Cover - Real Tree Camo


Sports (Bag Boy Company)




Luxurious, EXTRA THICK padded top with high density foam and impact resistant PVC top for maximum club protection
Deluxe in-line skate wheels provide smooth rolling action
Lockable, full wrap-around main zipper simplifies access and packing
Fits a 48 driver and up to a 10 cart bag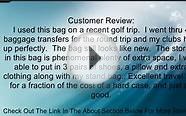 CaddyDaddy Constrictor 2 Golf Bag Travel Cover Review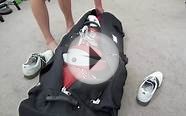 Great golf travel bag under $80: Caddy Daddy CdX10 review
Jack's Fitness Wrist Wraps, Red on Black


Sports (Jacks Fitness)




VOLUME DISCOUNTS Buy 2-4 @$22.99 ea., Buy 5-10 @ $20.99 ea. Simply add to cart. Discount is automatically applied on final checkout page. GREAT WRIST WRAPS FOR LIFTING...
THUMB STRAP ensures no slipping up or down -Sweat Absorbant Material- won t cut off circulation- Soft edges don t dig into your arms during your workout
WHEN YOU TRAIN WITH FREE WEIGHTS, proper wrist support is vital for injury prevention and long term success- Wrist Wraps are a BASIC for lifting and VITAL in Olympic...
SOLD AS A PAIR- 12 long by 3 wide - Extra wide Velcro for great grip -2 wide
PACKAGE IS STORE AND GO TRAVEL POUCH for wrist wraps which prevents gym bag fuzz and lint from sticking to the velcro -Includes Jack s Fitness Lifetime Warranty

Compact Microfiber Sports / Travel Towel (Set of 2) | Quick Dry, Ultra Absorbent Bath & Hand Sizes with Hanging Loop & Carry Pouch for Travel, Backpacking, Gym, Beach, Camping, Workout & More


Sports (ActivPAC)




Soft, Ultra-Absorbent Microfiber: High-performance fabric absorbs water and perspiration, then dries quickly-so you can reuse our towels again and again! Premium...
Versatile Uses: With 2 sizes in every set (Medium & Large), our towels are perfect for both traveling and at home! Use them for the gym, swimming, hiking, camping...
Convenient Hanging Loop: Each towel has an attached loop with a sturdy dome snap. Allows for fast, sanitary drying on hooks, poles & branches.
Compact & Travel Friendly: Towels fold up small, taking up little space in a bag or suitcase. The included carry pouch-durable and breathable-lets towels air...
Solid Product Guarantee: We re committed to your satisfaction. If you re not happy with your Dry N Go Travel Towels for any reason, please contact us for a 100%...

Koson-Man BlackGrey Waterproof Dustproof Bicycle Cover


Sports (Koson-Man)




Dustproof.
Size: 200x70x110cm or 78.74x27.56x43.31inch
Color:Camouflage,BlackGrey.