Travel Vest Women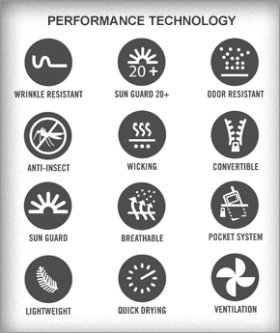 The ExOfficio Story
Founded in 1987, ExOfficio creates technical performance apparel for travel and outdoor adventure. Convertible pants, packable jackets, and vented long-sleeved shirts are just a few of their versatile designs. With innovative fabrics, features that enhance functionality, and collections that go where you want to go, ExOfficio apparel is designed to meet the demands of extreme adventures and everyday life.
Women's Travel
ExOfficio's stylish, packable separates have hidden zip-close security pockets for worry-free exploring. A thoughtfully-designed interior Travel Pocket System in their travel jackets and vests will keep you and your belongings organized whether you're headed around the globe or around the corner. Utilizing technical performance fabrics with built-in moisture-wicking, quick-drying, sun-protection, and odor-neutralizing properties, ExOfficio clothing is guaranteed to keep you comfortable wherever your travels take you, from the hiking trail to the coffee shop and back again.
BugsAway Clothing
ExOfficio was the first company to offer clothing with innovative Insect Shield® technology for long-lasting, effective protection against mosquitoes, ticks, ants, flies, chiggers, and midges. Permethrin, the active ingredient in Insect Shield, is invisible and odorless. It is bonded to the fibers using BugsAway®'s patent-pending process that transforms ordinary clothing into comfortable insect protection.
BugsAway is registered by the Environmental Protection Agency. The EPA registration process is designed to evaluate a proposed product to ensure it will not have adverse effects on humans or the environment. BugsAway has been evaluated at multiple levels—the chemistry, the application process and the final consumer product. The end result was BugsAway receiving the first-ever EPA registrations for insect-repellent clothing and gear.
ExOfficio Women's Flyq Lite Vest, Black, Medium


Sports (ExOfficio)




Vertical security zip pocket
Interior eleven-pocket travel system
Microfleece-lined collar
Elastic bungee hem cinch
Popular Q&A
What are the main songs of Shrek the Musical?
The main songs in "Shrek The Musical" are Waiting, Who I'd Be, Big Bright Beautiful World, I Think I Got You Beat, and Freak Flag.
What are the lyrics to the Dulac song in Shrek?
Shrek-Duloc: welcome to duloc such a perfect town here we have some rules, let us lay them down, don't make waves, stay in line, and we'll get along fine, duloc is a perfect place keep your feet off the grass, shine your shoes, wipe your........face!! duloc is, duloc is, duloc is a perfect place!! End of Lyrics.