Travel by Freighter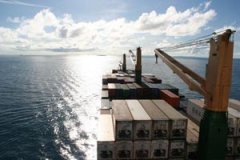 Freighter voyage underway. Photos by Andrew Horsman. Click on the photo to enlarge.
A Freighter Cruise Experience
By Maggie Freleng
Are you a person who has anywhere from 15 to 120 days to spend on the most exhilarating, unique, and nonstop adventurous time of your life? If so, then freighter traveling is perfect for you!
What Is Freighter Travel?
A freighter is probably exactly what you think it is: a cargo ship that travels the world delivering goods and products. Most of the major global freighter lines, CMA-CGM, Canada Maritime, and Freighter World Cruise offer any person seeking adventure the chance to come aboard for a fare.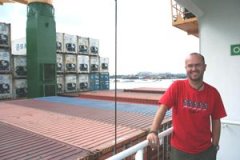 As a paying passenger you are accommodated in guest cabins and have access to most areas of the ship. While freighter travel is not as unaccommodating as one may think, it is generally for people who would prefer a laid-back setting, with a more rugged edge to it than your standard Carnival cruise. Some amenities you'll see on a a large cruise ship won't be available on a smaller freighter ship.
Think it's strange to be aboard a freighter? Well, think again! Captains and crew spend a lot of time on the water and are generally happy to have fresh and enthusiastic faces onboard. Many people who have traveled by freighter reported very friendly and accommodating crew.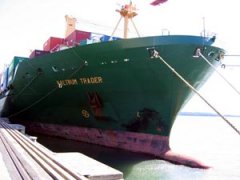 Andrew Horsman traveled from Singapore to Brisbane, Australia on an awesome nine-day journey in 2006 to fulfill a dream of traveling from England to Australia without flying. He and his girlfriend Danielle were the only passengers among 22 crew and officers.
Andrew Horsman on the deck of the Beltram Trader, en route to Brisbane, Australia
Andrew said, "Every one of them wanted to chat with us and hear about our lives, as much as we wanted to hear about theirs. In the evenings we would play board games with them, or challenge them to darts (which they usually won!).
"The Filipinos love karaoke so they managed to fit in a great night of barbecue followed by a singing session as we neared Brisbane."
Many other people describe crewmembers as excited to give tours of the ship and often invite passengers to join them for get-to-know each other happy hours during the long hauls at sea.
On Andrew's blog, he describes his freighter experience as "an amazing world."
"I met some fantastic people, some of whom I know I'll keep in touch with for a very long time to come. It's also allowed me to see people who lead completely different lives to me, people who have comparatively very few material goods but who seem happier than many people who have more."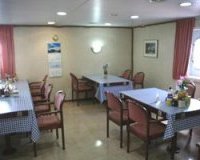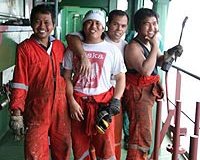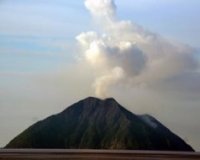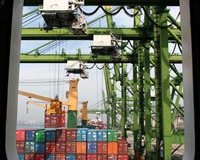 See also: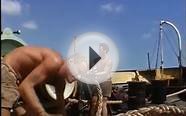 Cruising Indian Ocean by freighter 1960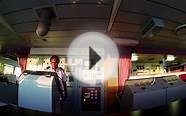 Travel by cargo boat: Hong Kong - Singapore / Wondrlust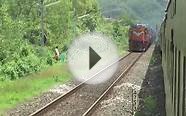 Duronto Insulted by RORO Freighter
Historic Print (L): [Portrait of Edna St. Vincent Millay]


Home (Library Images)




Typical Image Size: 16x20 , Paper Size: 20x24 .
Decorate with history or give a tasteful gift.
Historic Print (L): Edna St. Vincent Millay, 1892-1950


Home (Library Images)




Typical Image Size: 16x20 , Print Size: 20x24
Decorate with history or give a tasteful gift.
JILL JONES - FIRST DAY COVER SIGNED


Entertainment Memorabilia




A memorable & special gift!
A unique centerpiece for the home or office!
Only 100% Authentic Autographs & Manuscripts - Certificate of Authenticity Provided.
UACC Registered Dealer, #RD110 and member of the Manuscript Society!
Fast Worldwide shipping!